! img src="http://tundrasys.com:8080/d/laptop/blackmac.gif" border=0>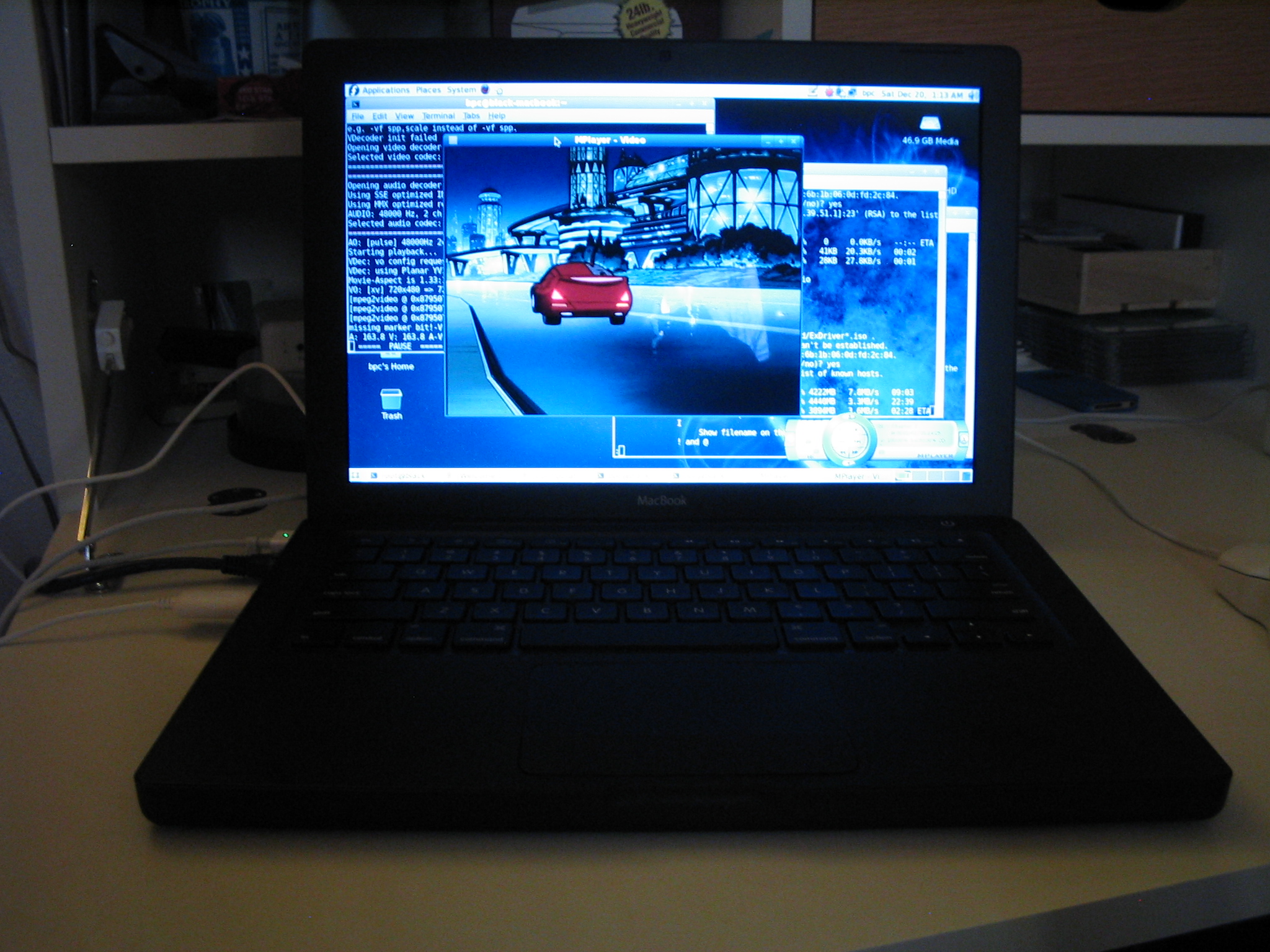 Specs
2.4 GHz Intel Core 2
2 GB Ram
250 GB Hard Drive
Superdrive
13.0 inch TFT LCD Display (1280x800)
10/100/1000 Ethernet, two USB, firewire, S-VGA output with special cable
Airport Card Extreme with Broadcom Chip (unless Broadcom changes their policy, no Linux driver)
Sound
Updated for Fedora 9
I bought the Mac Book from Voelker Research. One of the first things to do was to get Linux and Windows XP loaded. Since I have Mac OS X Leopard, to get the Windows drivers, you have to insert the Leopard DVD.

Everything works except for the Airport Extreme

Here are the steps to get the machine loaded.


sudo diskutil resizeVolume disk0s2 143G "UFS" Linux 42G "MS-DOS FAT32" Win 43G
Load Windows XP Service Pack 2 - use NTFS
Load Fedora 10
Partitions should be:


sda1 - EFI boot - LEAVE ALONE !
sda2 - MAC OS X - LEAVE ALONE !
sda3 - Linux
sda4 - Win XP
Get to a root terminal window and do "yum -y update; sleep 30; yum -y update"
Once the package updates are totally finished, execute this command found at http://rpmfusion.org/Configuration

rpm -Uvh http://download1.rpmfusion.org/free/fedora/rpmfusion-free-release-stable.noarch.rpm
rpm -Uvh http://download1.rpmfusion.org/nonfree/fedora/rpmfusion-nonfree-release-stable.noarch.rpm
You can get various packages. I did
Have to find the rpm for libdvdcss since it is not on rpmfusion. It should be included
yum -y install xine - currently fails due to segmentation failure
yum -y install mplayer mplayer-gui
Lastly, the most important item, edit the /boot/grub/grub.conf file and add "makeactive" to the Linux partitions BUT NOT to Windows. This would allow you to select the most two recent Linux kernels and Windows.


---
Send comments to Brad
Last Updated : Dec 19, 2008