!img src="http://tundrasys.com:8080/d/laptop/macbook.gif" border=0>


<! img src="macbook1.jpg"> <! img src="macbook2.jpg">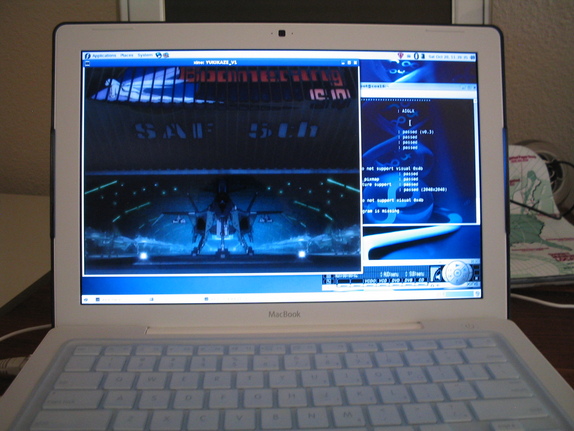 <! img src="macbook4.jpg">
Specs
2.16 GHz Intel Core 2
2 GB Ram
200 GB Hard Drive
Superdrive
13.0 inch TFT LCD Display (1280x800)
10/100/1000 Ethernet, two USB, firewire, S-VGA output with special cable
Airport Card Extreme Atheros AR5008 - Doesn't work yet. Use madwifi which should get updated for the neer Atheros chips.
Sound
Updated for Fedora 9
I bought the Mac Book through the Apple Online store. One of the first things to do was to get Linux and Windows XP loaded. I had to use Boot Camp to get the drivers for Windows onto a CD-ROM. However, I didn't use Bootcamp to partition the hard drive though.

Everything works except for the Airport Extreme even with F9

Here are the steps to get the machine loaded.


sudo diskutil resizeVolume disk0s2 100G "Linux" Linux 42G "MS-DOS FAT32" Win 43G
Load Windows XP Service Pack 2
Load Fedora Core 6 and then do