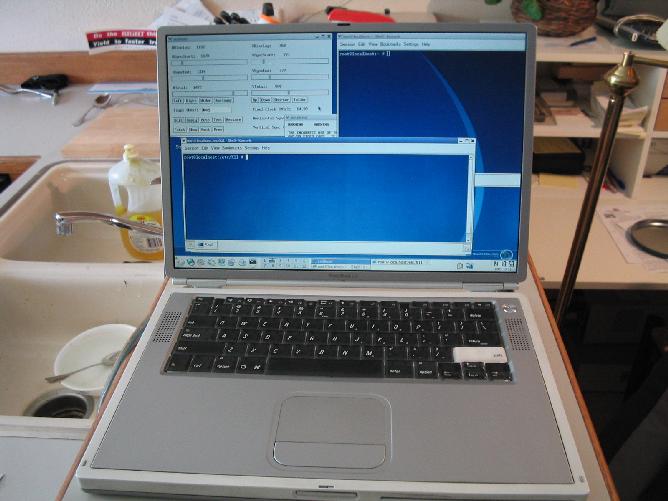 Specs
400 MHz Power PC G4 Processor
128 MB SD-RAM
40 GB Hard Drive
DVD Drive
14 inch TFT LCD Display (1152x768)
10/100 Ethernet, two USB, firewire, S-VGA output
Hardware 56k Modem off of USB
Airport Card
Infared Port

I picked up the Powerbook for a very cheap price. It was a demo model at the UCCS Book store. At the time, I did not know the machine had some problems so buyer beware.

I loaded Fedora 9 on the Powerbook. It already has a Mac OS 9 and a Mac OSX (Tiger) partition. After it is loaded, you will need to find a Mac OS 9.22 Boot Up CD, boot it up and find Disk Utility. Do NOT INITIALIZE the hard drive. Do an "Update Driver" in the menu and it should be bootable.

When you boot Fedora 9 DVD, you will need to do when the prompt comes up is do "linux text" since the X interface will not come up. When it comes up in text mode, pick and select what partition you want to load packages, it should complete.

When the boots up off the hard drive, it will come up in text mode. You will have to edit the "/etc/X11/xorg.conf" file and change the line that usually has "r128" or "radeon" or "ati" to "fbdev" and then type "startx" at the shell prompt. You should be able to go into X.

Once you are in either text or in X, perform the following commands:


yum -y remove iwl-4965-firmware
yum -y update kernel

yum -y remove selinux-policy.noarch selinux-policy-targeted.noarch
sleep 30
yum -y install selinux-policy.noarch selinux-policy-targeted.noarch

yum -y update

rpm -ivh http://rpm.livna.org/livna-release-9.rpm

yum -y install libdvdread libdvdcss libmad a52dec xine xine-lib-extras-nonfree.ppc xmms xmms-mp3 xmms-faad2 seamonkey thunderbird


With xine, you can play DVD's, with xmms, you can play mp3's and you have a different web browser of seamonkey and thunderbird to read e-mail.


---
Send comments to Brad
Last Updated : Sep 28, 2008