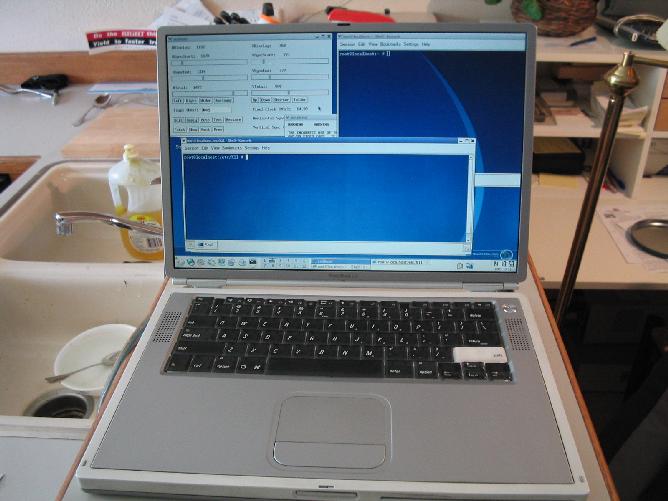 Specs
400 MHz Power PC G4 Processor
128 MB SD-RAM
40 GB Hard Drive
DVD Drive
14 inch TFT LCD Display (1152x768)
10/100 Ethernet, two USB, firewire, S-VGA output
Hardware 56k Modem off of USB
Airport Card
Infared Port

I picked up the Powerbook for a very cheap price. It was a demo model at the UCCS Book store. At the time, I did not know the machine had some problems so buyer beware.

The 10 GB hard drive was going belly up with some noise being made. I ended up using a 40 GB drive and divided it into three sections, Mac OSX, Mac OS 9 and Linux. The DVD drive is belly up as well where it sometimes works. Mac OSX and Mac OS 9 was loaded through the firewire port. I took an iBook and booted the powerbook with the "T" key pressed down to put it into firewire drive mode. When Linux was loaded, I took the drive and loaded it through a different Apple. I used the YellowDog Linux boot disk long enough so I can boot into Linux and then do a "ybin" to get YaBoot loaded.
X11
WHen you setup for X11 and it doesn't work such as video, try this XF86Config
Sound
Sounds works but in text mode, run "alsamixer" and set volume accordingly. When you run in KDE, use "kmix" to set your volume.
Infared Port
The Infared Port is available as a serial port. I have not done anything with it.
Modem
The modem is a hardware modem and should work with Linux.
Compuserve under Mac OS X
Even though this is off topic but there are those who are interested in setting up custom scripts to dial up their Internet accounts.

I used Compuserve Classic dialup on the Mac OS X side when I travel whcih requires a custom chat script. The script is cserve.txt. It is placed in the /Library/Terminal Scripts directory which by default does not exist and has to be created first. I got a dial-up script from a Rice University IT person and then modified it for Compuserve Classic dial up.
Mac OS 9.2.2
Mac OS 9.2.2 was loaded through the firewire port from an iBook. In order to get it to work, select startup disk in System Preference in Mac OS X and then reboot. It will then work in bootup.


---
Send comments to Brad
Last Updated : Aug 29, 2005