This is a kitchen that was completely remodeled
(didn't do the floor, just the counter tops and wood work.).
The tile floor that was installed raised the floor 3/4".
2 counter tops were replaced with a different color but a standard top,
raised by adding Oak 1" x 2"s around the cabinet top.
The Peninsula (it is connected on 1 side) was raised an
additional 3" by using Oak 1"x4"s with a custom laminated top
and an Oak 1" x 2" edge with a 45 degree chamfer.
The column was built to conceal a floor jack that installed through the
counter top and cabinet. Electrical was added, and we found out that
we could not find a double space Oak Decora plate
so I created one from raw wood.
The back side away from the stove was increased to 14"
to serve as a breakfast bar, and corbels were installed to give it additional strength.
click on the pics to see a larger one.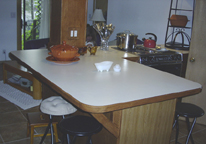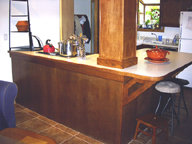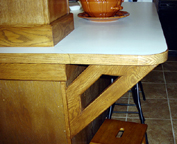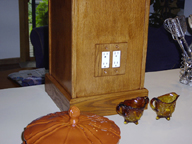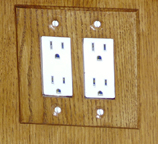 The screws have since been painted to match the stain.