About the Author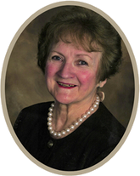 The author, Phyllis Constant Didleau, holds a bachelor degree with a Life Certificate in elementary education from the University of Northern Colorado in Greeley. As a postgraduate student, she studied in Special Education at the University of Hawaii in Honolulu. Phyllis has many year's experience in the classroom.
As a high school student she taught Sunday School and has been the Director of Children's Church, along with years of volunteering teaching children and participating in Vacation Bible School. Her Biblical studies include a two-year course from the Institute of Theology by Extension through the Department of International Studies, Open Bible Churches.
About the Illustrator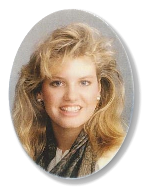 Gretchen Gackstatter received a Bachelor in Fine Arts from the University of Northern Colorado, Greeley. Over the years, she has taught art from kindergarten through high school. At the present time she teaches watercolor at the Argonne Gallery in St. Louis, Missouri.
The Little Manger Mouse - Bronze Winner - 2010 Moonbeam Award

Moonbeam Children's Book Awards is designed to honor the year's best children's books, authors and illustrators. This exciting new book awards program is open to authors, illustrators, and publishers of children's books written in English or Spanish and intended for the North American market.
Presented by Jenkins Group and Independent Publisher Online, the Moonbeam Children's Book Awards are designed to bring increased recognition to exemplary children's books and their creators, and to support childhood literacy and life-long reading. Awards will be given in 36 categories covering the full range of subjects, styles and age groups that children's books are written and published in today.
As our society has gotten more complex and growing up has become more complicated, children's book authors and publishers have risen to the occasion, creating books that not only celebrate the joys of childhood, but also help kids and families deal with its challenges. The Moonbeam Awards will recognize and reward the best of these books and bring them to the attention of parents, booksellers, librarians, parents and children.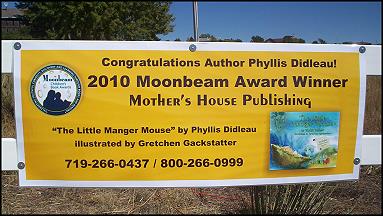 "The Little Manger Mouse" 2010 Moonbeam Award Ceremony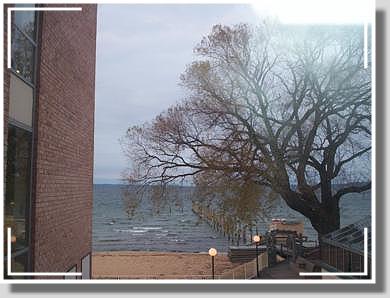 Hotel room view of Lake Mich, Traverse City.
---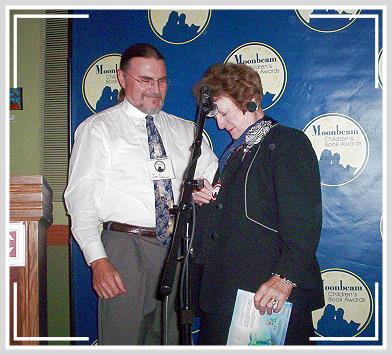 Phyllis receiving her Bronze Moonbeam Award for
"The Little Manger Mouse".
---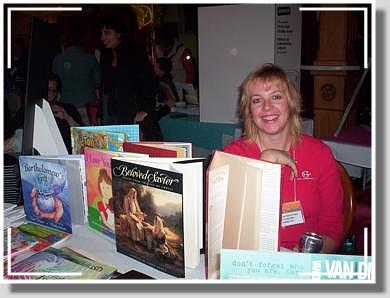 "Bartholomew's Gift" - Gold Medal winner - Illustrations in Religious and Spiritual catgory.
---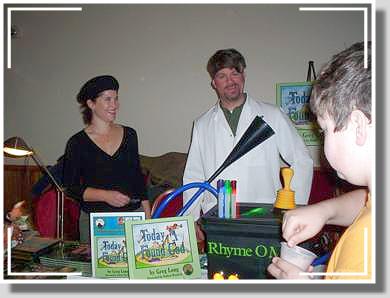 "Today I Found God" - Greg Long. Gold Medal winner book in Religious and Spiritual catgory.
---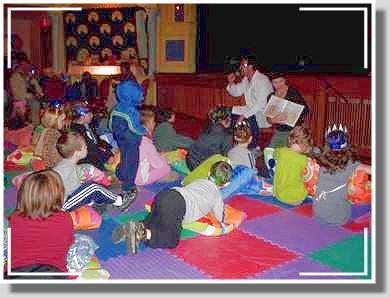 Gold Medal winner Greg Long reciting his book with his wife Shawn.
---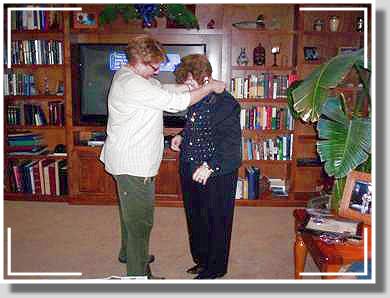 Mother's House Publishing Colorado celebration of Moonbeam Award. Jackie presenting Bronze Medal to Phyllis.
---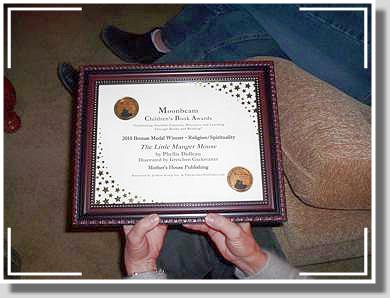 Moonbeam Award Certificate.
---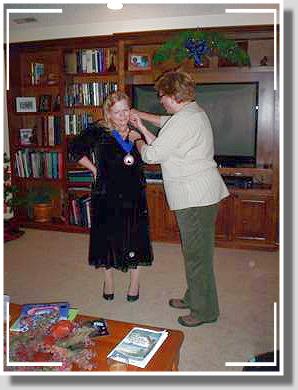 Jackie presenting Bronze Medal to Milley Aalto for cover design and layout.
---
ISBN 978-1-935086-63-5
ISBN 1-935086-63-4