JO GASTON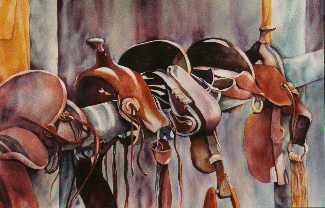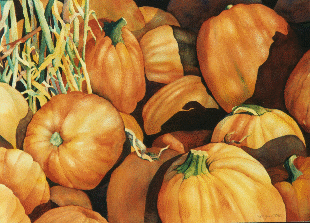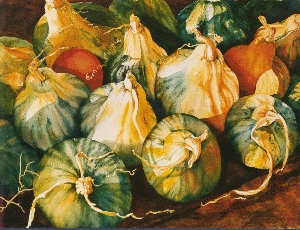 by Jo Gaston © 1999
Intrigued by the bold shapes and rich colors of saddles, harnesses and other tack, Jo paints close-up views with surface realism as a medium to convey powerful abstract undertones. Painting the intricate shapes and glowing colors of vegetables and flowers, she transforms earth tones into vibrant colors to dramatize form and texture.
An art educator for 20 years, Jo received her bachelors degree in art from Southwest Missouri State University and her masters degree in education from the Colorado College.
Recent regional and national juried shows include Colorado Watercolor Society State Exhibition; National Watercolor Oklahoma; Texas Watercolor Society International Exhibition; Watercolor Arts Society - Houston; Northwest Watercolor Society National Exhibition; Kansas 7 - State; Watermedia IX; and the Catherine Lorillard Wolfe Art Club Exhibition, N.Y. Jo is a past president of the Pikes Peak Watercolor Society and a signature member.
Jo was chairperson for this years excellent exhibit WaterMedia XXII at the Colorado Springs Fine Arts Center.