VICTORIA A. GREENE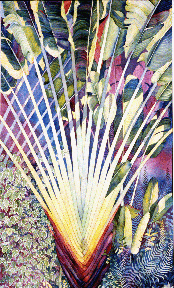 "Rainbow Palm" by Victoris A. Greene © 2000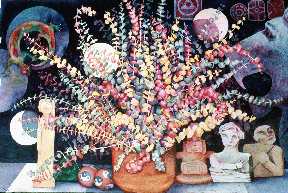 "....But Merely Players" by Victoria A. Greene © 2000
 Born and raised in the Missouri Ozarks, Victoria has been drawing and painting most of her life, but it wasn't until she discovered watercolor in a 1982 Wisconsin workshop that she became a serious painter.
"Watercolor controls me much more than I control it. That is the exciting challenge that has kept me enthralled for so many years. The media still eludes, frustrates, and inspires me."
Although Victoria is primarily self-taught, she has been greatly influenced by watercolorists Jeane Crane, Maxine Masterfield, and Barbara Negis. A Signature Member and the 1999-2000 President of the Pikes Peak Watercolor Society, the Milwaukee League of Artists, the Mid-Missouri Watercolor Society, Black Hawk Artists, the Western Colorado Watercolor Society, she has competed in exhibits throughout the Midwest and Colorado. In Colorado Springs, she was represented by the Art and Plant Gallery for three years and currently by the J. D. Blaine Gallery. North Light Books included one of her pieces in Splash 5: The Best of Watercolor.
"I invite those who view my art to crawl inside the folds of a cabbage leaf, to traverse the lines in an aged face, to see that which escapes a snapshot or quick glance. There is always symmetry, beauty, a unique composition even in the least of what we give our attention."