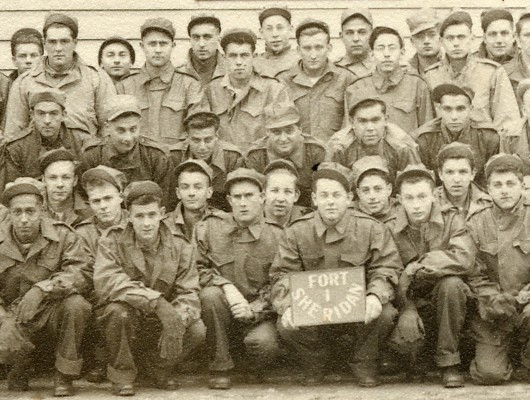 Closeup of the Postcard
This is a postcard that Bob Webber sent home to his family on 1 December, 1944. It shows Dad and 82 other new Army inductees posing outside a barracks at Fort Sheridan, Illinois. Private Robert T. Webber is three men to the left of the soldier holding the sign.
Dad said that new recruits were known as yardbirds (perhaps because of the way they wore their caps and milled about the yard). Yardbirds became slang for any group of GIs.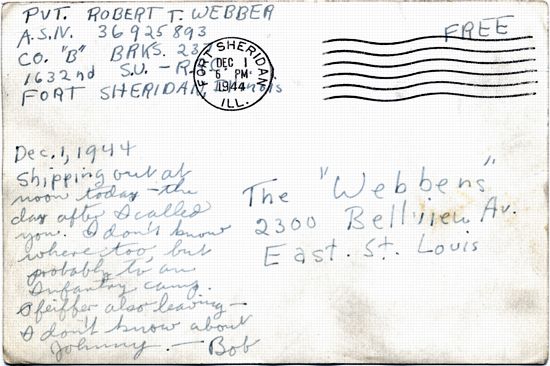 Notes:
Robert T. Webber was inducted into the U.S. Army on 28 November 1944, and inprocessed at Fort Sheridan, Illinois. On 1 December 1944 he was transferred to Camp Joseph T. Robinson near Little Rock, Arkansas, for Infantry Basic Training. He completed basic training in March 1945, and went home on leave.
I found pictures of Dad and his good friend Johnny Branz wearing their Army uniforms in front of 2300 Belleview. My mother wrote on the back of one picture, "Sometime near Easter 1945." Easter Sunday was on 1 April 1945.
Dad's next stop was Fort Ord, California. His notes indicate that from 3 through 12 April 1945 he was assigned to "Co. O, 2 Repl. Regt., A.G.F.R.D. 2, Fort Ord, Calif."
On 13 April 1945 he shipped out of San Francisco aboard the troop ship U.S.S. General E. T. Collins, bound for the Pacific Theater. Johnny Branz and other boyhood friends sailed with him.
Paul M. Webber
Colorado Springs, Colorado
9 September 2002
---
---