---
The 2007 reunion has been canceled. See below.
---
Notes from Raymond Roach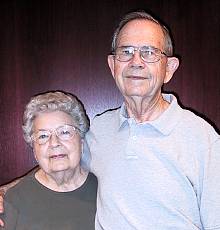 13 February 2007
Raymond Roach announced that the 2007 reunion will be held on 28-29 September 2007 at the Holiday Inn Express in Starkville, Mississippi. The manager and staff of Holiday Inn Express have provided wonderful hospitality to our reunion group since 2002.
8 August 2007
Raymond Roach regrets to announce that the 2007 reunion has been canceled. He learned that Dr. Deas is no longer able to travel, and he wrote: "We have lost four since the meeting last year. We are getting few in number now."
---
27 February 2017
I learned recently that Ray Roach passed in 2014. He was a fine man, and treated me like a son. His obituary is here: Raymond L. Roach (30 Dec 1920 - 7 May 2014)