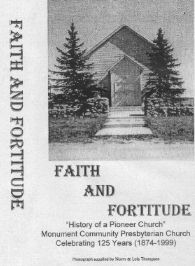 "FAITH AND FORTITUDE"
History of a Pioneer Church. Monument, Colorado Community Presbyterian Church. Celebrating 125 years (1874-1999)
Established in 1874 by famed Presbyterian circuit rider Reverend Sheldon Jackson, the Monument Community Presbyterian Church has been welcoming people for worship and fellowship for 125 years. Learn how God has sustained this church through the pioneer times, the roaring '20's, the depression, wars, and the urban movement. Although there were many opportunities throughout our 125-year history for this church to die, God's purpose was carried on and today is reaching out to many new people within the Tri-Lakes area. The importance of our history is the witness and service of the previous generations for the generations to come.
Written, produced, and directed by Jim Sawatzki & MCPC Historical Committee
"FAITH AND FORTITUDE" is only available on the
Territorial Days Trilogy DVD.
Click here to order Territorial Days Trilogy
For inquiries:
Colorado Springs area call 1-719-481-3963
-- correspondence --
P.O. Box 42 Palmer Lake, Colorado 80133