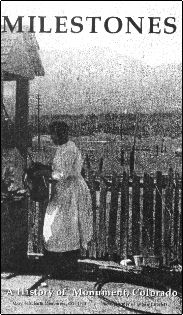 "MILESTONES"
A History of Monument, Colorado.
This 30-minute historical video tells a colorful tale of Monument's growth from a quiet pioneer settlement to a bustling Front Range community. This is a true story of small town Colorado, featuring ranching and farming, ice harvests, and potato bakes. The production incorporates archival photographs, personal interviews with local residents, rare film footage, and a poignant historical re-enactment.
Narrated by local storyteller John Stansfield and Monument resident Catherine Close McGuire.
"MILESTONES" is only available on the
"Palmer Divide Trilogy" DVD.
Click here to order Palmer Divide Trilogy
P.O. Box 42 Palmer Lake, Colorado 80133
For inquiries:
Colorado Springs area call 1-719-481-3963
-- correspondence --
P.O. Box 42 Palmer Lake, Colorado 80133