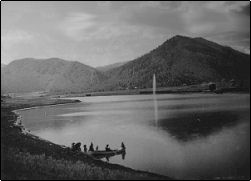 "THE VILLAGE ON THE DIVIDE"
A history of Palmer Lake, Colorado. This video showcases Palmer Lake's unique natural human history from the early 19th century to its modern-day charm. The Front Range Hamlet hosted roving tribes of Native Americans, railroad builders, Chautauqua visitors and summer tourists. The blue columbine, Colorado's state flower, was discovered here. A classic edition to your video library, the production highlights archival photographs and rare film footage. Personal interviews include descendants of early pioneers, as well one of our nation's first astronauts, M. Scott Carpenter.
Directed and co-produced by Jim Sawatzki in the community video center of the Pikes Peak Library District.
Written by Diane McDonald Sawatzki, narrated by Dennis Book and storyteller John Stansfield.
"THE VILLAGE ON THE DIVIDE" is only available on the
"Palmer Divide Trilogy" DVD.
Click here to order Palmer Divide Trilogy
For inquiries:
Colorado Springs area call 1-719-481-3963
-- correspondence --
P.O. Box 42 Palmer Lake, Colorado 80133